Purification of Natural Enzymes from Quality Strains
Interview with Dr. Chuan Shih, founder of BioResource International (BRI), USA
Keeping the animals healthy is what matters most to the livestock industry. Rising raw material prices, rocketing feed prices and rampaging livestock diseases means antibiotics must be used for health management. Increasing environmental awareness means that the feces, wastewater and odors produced by animal husbandry are all problems that the livestock industry must now face directly as well.
The "Simplicity philosophy" and taking a "less is more" approach to keeping animals has started gaining traction in the livestock industry over recent years. Animals don't really need much. A health animal is less likely to get sick and so requires less antibiotics. Improve feed utilization means savings on protein additives as well as a reduction of hydrogen sulfides and ammonia gas in their manure, greatly lowering the cost of treatment. Natural enzymes developed from quality bacteria cultures make the perfect tool for ensuring good animal health.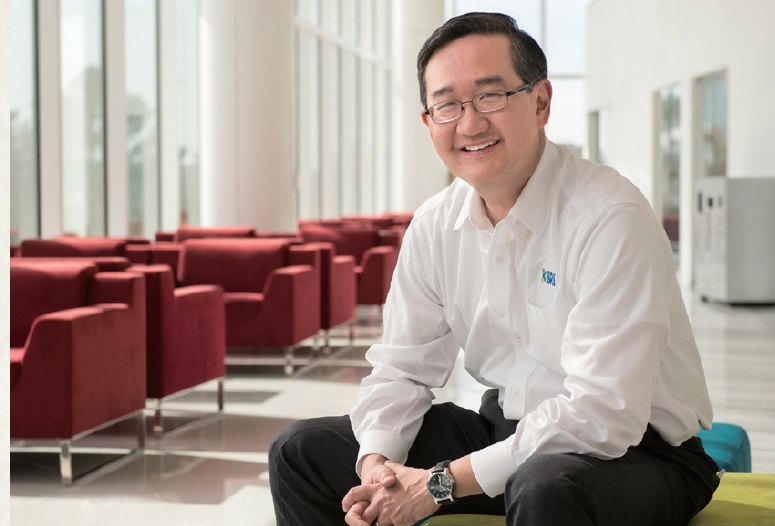 ▲Dr. Chuan Shih is an expert in microbiology. He has worked extensively on improving the livestock industry and overcoming the problem of antibiotic abuse.
Keratin discovery brings new hope to the livestock industry
"Versazyme®" and "Valkerase®" are bio-enzymes that improve the feed utilization of soybeans. The world-renowned BioResource International (BRI) agricultural biotechnology company was founded in North Carolina, USA, and has only 25 employees. The company's R&D team is made of top experts in biochemistry and microbiology. BRI was founded by the Taiwanese-born American scientist Dr. Jason C.H. Shih. The Versazyme® enzyme for improving the digestion of feed protein he developed is now sold all around the world. BRI holds a number of patents and its core technology was based on a discovery made by Dr. Jason Shih while he was at the North Carolina State University - an enzyme produced and purified from Bacillus subtilis that could break down keratin (such as feathers). His discovery can not only improve the protein utilization of chicken feed and reduce feed costs. It can also break down the prions that lead to Mad Cow Disease, making it a new milestone for the modern livestock industry.



Dr. Jason C. H. Shih was born and raised in Taiwan. He graduated from National Taiwan University in 1963, received a master's degree in Biochemistry from the NTU College of Medicine in 1966, and began teaching at Tunghai University. In 1969, he received a scholarship from Cornell University and went to the US to study for a doctorate in nutritional biochemistry. Shih subsequently enrolled in the Department of Biochemistry at the University of Illinois to engage in post-doctoral research. In 1976, he assumed a teaching post at the College of Agriculture and Life science of North Carolina State University. There he taught many of the top experts in agriculture and animal husbandry over the next 33 years. He was named as professor emeritus by the university when he retired in 2009.
Dr. Shih is a leading authority on the application of biotechnology in the livestock industry. His research on high-temperature anaerobic fermentation to efficiently convert waste into biogas energy for example not only protects the safety of humans and animals but also increases the value of waste produced by the livestock industry.
Dr. Shih's best-known research accomplishment was being the first researcher in the world to successfully identify a bacterial strain that is capable of breaking down feathers from the biogas pool. He purified the keratinase enzyme from this bacterial strains and found the appropriate DNA sequence. Genetic engineering was then used to produce keratinase as digestive enzymes. When added to animal feed, it improved protein digestion and effectively reduced feed costs. In 2001, Dr. Shih and European scientists jointly discovered that this enzyme can also break down the prion proteins that lead to Mad Cow Disease. Dr. Shih has gained ten international patents based on these results of these research projects.
In 2000, Dr. Shih and his eldest son Chuan Shih founded the BioResource International (BRI) company in the US based on key technologies from these patents. Two products, Versazyme® and Valkerase® were successfully developed using keratinase technology. The products were then successfully marketed worldwide through a partnership with YungShin Pharm Inc. Co., Ltd. (YSP) and Vetnostrum in Taiwan.
Improving Livestock Health and Reducing Antibiotics Usage
There are many small scale and medium-sized stock farms in South America and Southeast Asia. Those farms can make the decision to change their feed and adopt natural enzymes quite quickly. Large stock farms however must go through many checks and take longer to decide. Dr. Chuan Shih explained that "even though BRI started building up our market through small stock farms, I often say: "Let the chickens and pigs speak for themselves." What I mean is, when enzymes are used, you can see for yourselves how the animals getting healthier and growing faster. It is also directly reflected by the lower costs and higher profits for farmers. Whether the product is good or bad is obvious to see. This is the most direct challenge in the production of enzymes for animal-use as well. If the product works as advertised, the word-of-mouth reputation will spread like wildfire." Said Dr. Chuan Shih.
Food safety has also attracted greater attention in recent years and the requirements on residual antibiotics in meat products are becoming increasingly strict. "The issue of food safety means leading fast food chains. Multinationals like McDonald and Kentucky are now pushing for their suppliers to manage the amount of residual antibiotics in their meat products. Only suppliers that can provide healthy, quality meats can rank among the supply chain. Large livestock producers in Europe and the US are therefore paying more attention to how natural enzymes affect livestock health."
BRI had set its sights on the global market so it needed production partners capable of replicating its advanced technology and engaging in batch production with consistent quality. In 2009, Dr. Chuan Shih was introduced to Vetnostrum's parent company - Yungshin Pharm Inc. - by one of his fellow graduate students. YSP's advanced pharmaceutical manufacturing expertise and BRI's enzyme technology work together to produce the freshest and most active natural enzyme products based in Taiwan and first sell to Southeast Asia and China. Later, Vetnostrum was established to focus on the research and development and of animal feed application as well as the global marketing and distribution of BRI's natural enzymes.
YSP and Vetnostrum: BRI's Most Dependable Partners
Dr. Chuan Shih explained: "We started with small scale production at first and went from 30kg to 500kg, then 5,000 kg. As the market grew, production had to be ramped up to 50 tonnes. I am really impressed with how Vetnostrum continued to refine the production technology. They managed to increase the output without compromising on quality and consistency."
Vick Chung, President of Vetnostrum said that once his company began a key BRI partner they were faced with a quite distinct set of challenges. "I think BRI's expertise is in fermentation. Its many world-leading technologies helped Vetnostrum stabilize quality during production. Taiwan is located in the subtropical climate zone, so temperature and humidity naturally are impact factors in large-scale production. Carbon dioxide, oxygen and pH values must also be taken into consideration when expanding production to avoid a minor mistake bringing everything crashing down. There was a lot of pressure naturally. How to achieve "repeatability" and "consistency" not only tested the production capabilities of Vetnostrum but also inspired us to keep moving forward."
Vetnostrum expanded production from 30 kg to 5,000 kg in one year. Production was eventually expanded to 50 tonnes. It took another two to three years before product quality and consistency met the high standards they set. "Even though production capabilities and standards in places like China and India are continuing to improve, mutual trust is just as important as production capability in enzyme production. Entrusting production to Vetnostrum means there is no fear of the bacterial strain being leaked or stolen. Many challenges had to overcome along the way. This year, we are not only expanding our production lines but will also start producing natural enzymes suitable for the aquaculture industry. "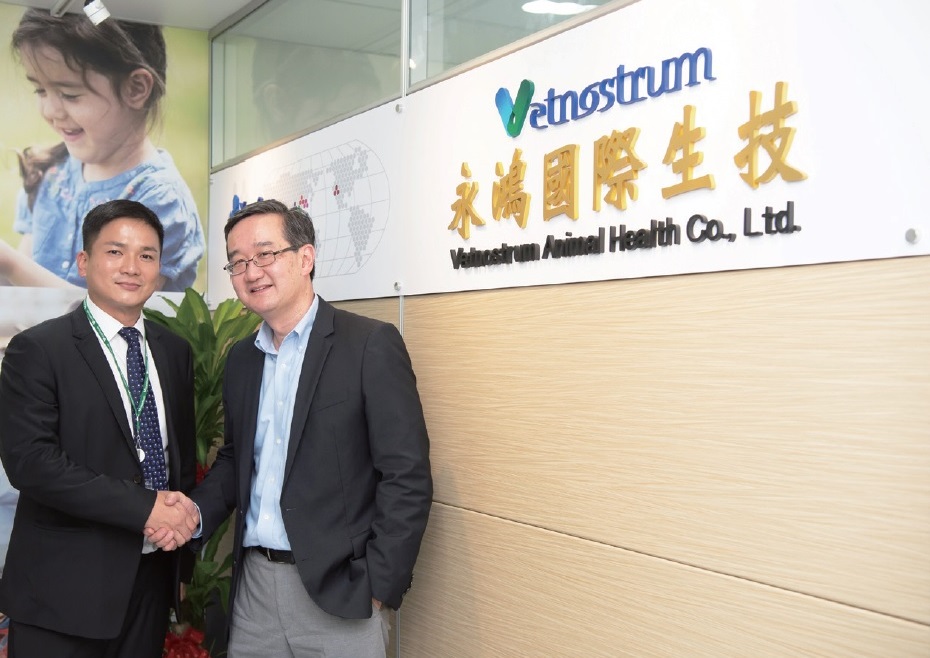 ▲Vetnostrum works closely with BRI to produce and market high-quality natural enzyme products worldwide using the technology provided by BRI.
Developing Natural Enzymes for the Aquaculture Industry
Aquaculture feed and additives can be considered a new field. The feed factory must adjust its production process and the product is more complex than normal feed as well. "Feed will be dropped into the water so it is different from solid feed. Enzyme activity must also be maintained until it is eaten by fish and shrimp. These were all challenges that Vetnostrum and BRI had to jointly overcome. Feed and enzymes tailored for the aquaculture industry was finally completed after a great deal of development."
The advanced feed and additives produced by Vetnostrum, a leader in the livestock industry, not only helps improves efficiency for operators. Being able to use less protein and antibiotics also lowers costs as well. In addition, it also helps operators solve a lot of problems they have with the disposal of animal manure, deodorization and breaking down of methane.
No matter how big or small a business is, "environmental friendliness and a sustainable planet Earth" have now become the social responsibility and duty of every enterprise. How can the use of natural enzymes as feed additives help the livestock industry improve its environmental performance? When natural enzymes are used with livestock, the nutrients in the feed are digested more thoroughly. Less waste means there are less metabolic products. When the animal manure contains less of the hydrogen sulfides and ammonia that give it its smell, the livestock industry's environmental impact is reduced. There is then no need to spend large amounts of money on heavy-duty deodorization and wastewater treatment facilities.
Eating Better and excreting Less: Controlling Costs through Waste Management
"The environmental issue has become very important to an increasing number of customers." added Chung. "For example, in the past we always talked about improved feed conversion rate and weight gain when visiting customers. While for nowadays, it's all the same to the customer. Now, when we analyze how natural enzymes can help with environmental sustainability and solve the problem with animal manure and odors, our customers sit up and take notice. This is obviously an area that farmers urgently need help with."
Dr. Shih Chuan said that environmental issues are now a global trend. It's not only for major livestock producers in Europe and the US either. China alone has massive chicken and pig farms, so back-end waste disposal is an issue that cannot be ignored. Sometimes, even the construction of expensive waste treatment plants does not fully solve the problem. "Using natural enzymes and additives to manage "what the animal eats" is the only way to solve the root that cause the problem."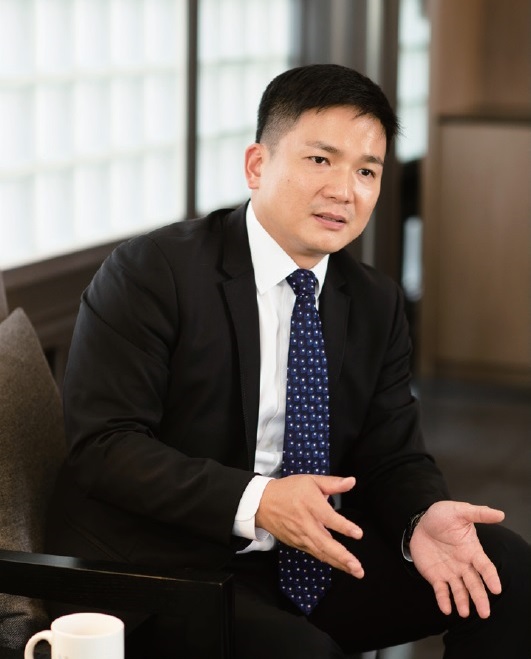 ▲Vetnostrum President Vick Chung said that environmental protection is an important issue to the livestock industry. They take a strong interest in the use of natural enzymes as feed additives to reduce the amount of hydrogen sulfides and ammonia in animal manure.
Chung also mentioned that food safety is now attracting more attention. Human health is closely linked to animal health, so everyone is now fighting for a slice of the animal enzymes market. "Some companies have recently launched probiotics or enzymes for animal feed additives. Most of these are "compound enzymes" that give people the impression that more means better protection." Most of the enzymes from BRI are single enzymes. So, single and compound, which is better? That's the question many livestock farmers often ask."
Single Enzyme Keeps Animal Health Simple
Chung cited a recent news article in Taiwan where researchers found that eating too much of a well-known probiotic may actually boost the number of bad bacteria such as E.coli in the body. The use of compound cultures may in fact unbalance the internal microflora. It happens in the human body and in animals too. Many studies now suggest that "the simpler the better." If enzymes are made from a single, stable, high-quality and focused culture that has been properly optimized will help chickens, ducks and pigs grow up healthy and strong, why bother with complicated enzymes?
It is worth noting that BRI is the star of the Chinese-speaking world when it comes to the optimization of bacterial cultures as well as technological innovation and value-adding. "We also talk about genetics and eugenics. Good genes mean you will be born smarter and healthier than other people. The same principle applies to the cultivation of bacterial strains too. The BRI research team has invested a lot of time on the development of genetic technology including the preliminary screening of bacterial cultures and finding the right strains. Being able to take advantage of biotechnology developments such as genetic engineering meant that our products enjoyed very good feedback after their release."
Dr. Chuan Shih said that BRI has put a great deal of effort into optimizing bacterial cultures. He himself came from a microbiology research background so he strongly believes in continuing to experiment with innovative ways to improve bacterial strains. Rapid advances in technology means there are now many new techniques that weren't available before. Previous bottlenecks in experiments can now be overcome. That's how BRI can take a scientific approach to turning ideas into products and change the future of the livestock industry through science.
Dr. Chuan Shih said emotionally that he and his father came from Taiwan and grew up in the US so they are equipped with the best property of the East and West. They not only absorbed the scientific logic and rigor of the West but also possess the Eastern qualities of strong work ethic and tenacity. He feels fortunate to have such a strong partner with Vetnostrum where everyone shares the same ideals, can work together to achieve remarkable results, and turn scientific research into commercial products that can be sold worldwide.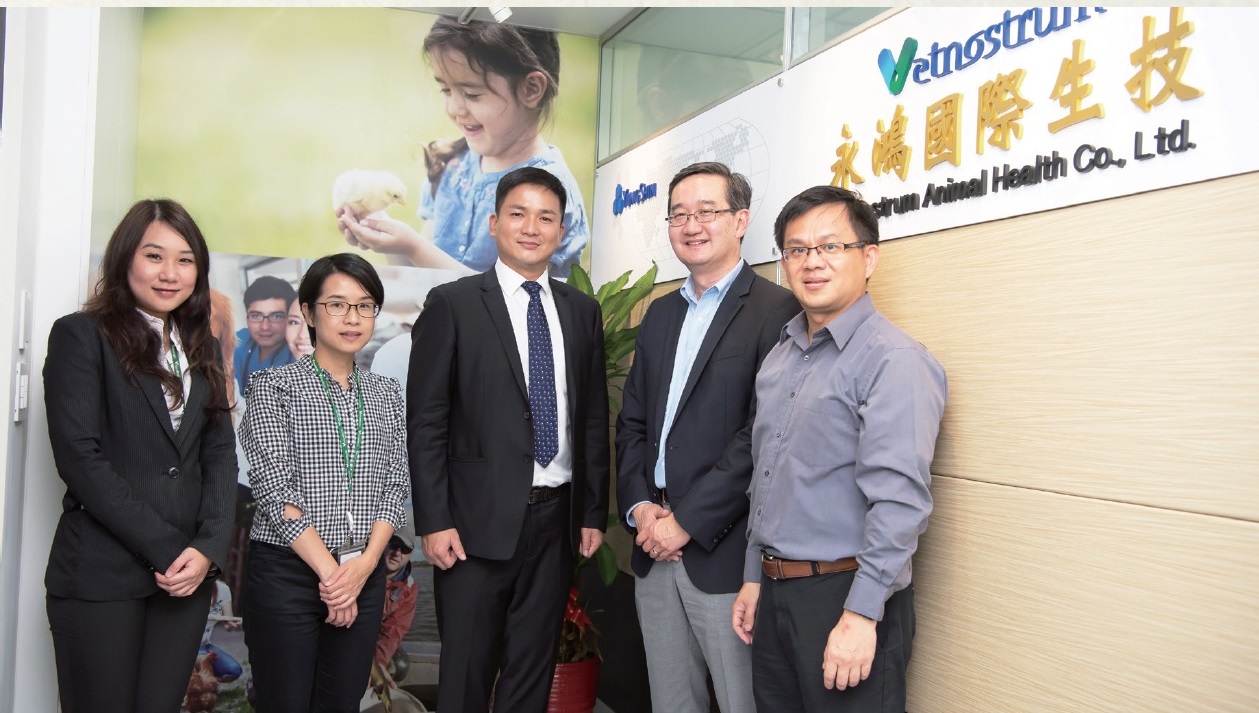 ▲BRI founder Dr. Chuan Shih and his partners at Vetnostrum.