Particular thanks to Keng Yang, General Manager of Fuchang (Cayman) Group; Jie Yang, General Manager of Xinyuanfa Industrial Co., Ltd.; Peifen Yang, General Manager of Taiwan's Fuchang Group Management Headquarters; Song-Qiao Chang, Assistant of Chairman, and Shi-Chong Wang, Director of Fuzhou Molecular Breeding Center.

"Do our best, vision must be far away from others". This is the motto of Zhenghong, Yang chairman of Taiwan's Fuchang Group. Fuchang also follows this spirit and leads the market together in a forward-looking manner. We adhere to the concept of honesty, quality, innovation and provide the best products and services in the industry.
You may not know if we don't say it, In Taiwan, one of every three pigs come from Taiwan's Fuchang Group. Pig genetic modify in Taiwan lead by founder chairman Zheng-hong, Yang in Fuchang Group. Yang's outstanding team improve the efficiency of Taiwanese pig breeding and successfully win the markets in China, Hong Kong, Macao, and southeast Asia. He says that even Western pig breeding experts should learn from him. How did he create a pig kingdom, and developed Taiwanese pig breeding business internationally.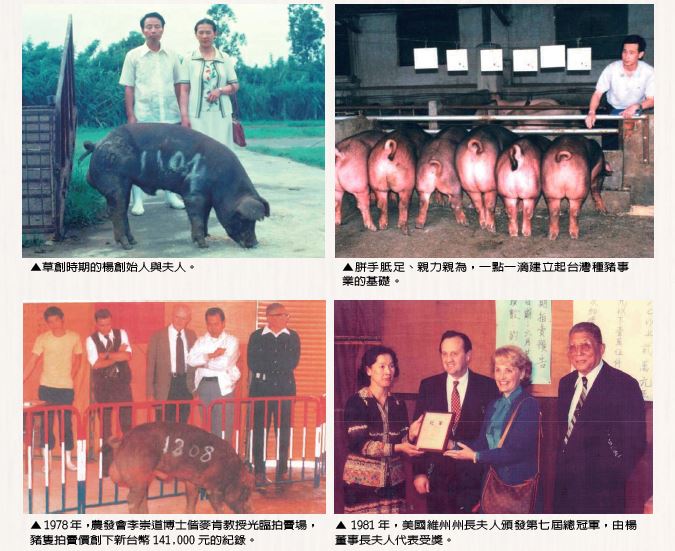 Pig breeding for feed market demand
Chairman Zheng-Hong, Yang grew in Lanyang field, a wonderland with beautiful scenery, graduated from the Yilan Agricultural Vocational School (former National Ilan University). Basing on his education background and hardworking, since 1966 started from his own brand name "Great Wall Brand" produced fully compounded feed.
A local feed factory in Yilan, how did the company go globally? Chairman Yang modestly said that "it is completely unexpected outcomes".
In the beginning, Fuchang imported raw material for trading, pigs were used to test whether the pigs were able to grow robustly. "In the early days, we started raising pigs from a few pigs. After we took over the pig farms run by the farmers' association in 1970, we started to build an experimental farm.
"In the early days, we started raising pigs from a few pigs. After we took over the pig farms run by the Farmers Association in 1970, then we started to build an experimental farm. Along with experience accumulating, it is to note that the key for pig breeding is balanced feed nutrition. Moreover, pig species is further affected quality of pigs. At that time, pig farmers adopted traditional way for breeding, thus, pigs were small generally and reproductive capacity was weak. Thereafter, chairman Yang decided to devote to pig industry.
After slowly giving birth to a small result, we found that pigs should be kept well, not only Feed nutrition to balance, the good and bad breed is the key to affecting the quality of pigs. Taiwan pig farmers at that time are "indigenous steelmaking", with the traditional way of raising local pigs, pigs generally thin, breed the next generation of nature nor would it be ideal. "Thus, Chairman Yang changed his mind and decided to devote himself to professional swine breeding work. Since 1974, FatChang Enterprise established positioning as a professional pig genetic improvement company, and then introduced fine breeding pigs from abroad and gradually established sources of bloodlines. By using the most advanced sources of pig breeding, and front-end breeding pigs, pig industry established its foundation in Taiwan.
Four dimensions innovation, take the lead to start
"Since 1974, Taiwan's swine industry has been developing in a scientific and systematic way. In 1975, the government promoted a series of innovations in the swine industry, which can be resulted from four dimensions including the registration of pigs, verification of swine breeding, national core pig farms and pig evaluation, "Fu Chang took the lead in participating in the festivities." Fuchang participated in the verification of the government's central pig performance test station. After nearly half a century experiencing, Fuchang continue to provide the examiner to Fuchang breeding farms, donated exam fund and contributed the most from the others.
Furthermore, due to Yang's indomitable learning attitude and foreseeing vision, and learned from experts from the United States. In 1980, Fuchang became the first one in Taiwan exported to Thailand, the Philippines, Malaysia and Hong Kong. Vietnam and other Southeast Asian market practitioners, dazzling achievements even the President Chiang Ching-kuo has also come to visit.
However, Yang is not satisfied with the achievements. In order to improve the pig breeding rate, Fuchang invested 10 million in 1984, firstly established three-stage wastewater (sewage-water) treatment plant to enhance both pig breeding business and environmental preservation. In addition, by utilizing costly biological fermentation method and a thousand-ping area construction wastewater treatment project. The processing is what when solid-liquid separated the entire piggery wastewater pulled in the underground, then pumped the anaerobic tank for fermentation processing, and then discharged into the aeration tank for aerobic treatment, after the second sedimentation process, the effluent was clear bottomed after passing through the disinfection tank. Insofar, the construction surpassed the national criteria, and it further enhances Taiwanese swine business. He was awarded the highest honor of livestock husbandry in 1987 Award " Fujiang Award", the following year by the Chinese Animal Husbandry Society" Business Award "affirmed.
Challenge high standards, pioneer in the industry
"Pork is closely linked with the people's livelihood and the pig-raising business should concern about the community as a whole." Chairman Yang said meaningfully. He mentioned that because of his personality, high-demanding, step by step, challenge difficulties, it is insufficient for the top 1 company, animal health should be emphasized for FuChang.
In 1995, it took the lead in creating a curtain-type automatic temperature-control nursing barn and implemented the 14-day-old segregated earnest weaning (SEW) In 1997. Fu Cheong became the first swine farm in Taiwan's swine industry to successfully eliminate pig's Pseudorabies (PR).
In 1998, through advanced equipment, gene screening firstly removed for Porcine Stress Syndrome from Blue Reese, Yorkshire, and Sows as maternal line breeds.
Reducing the problem of Porcine Stress Syndrome, economic losses and pig breeding rate can be improved. In addition, genetic screening can also develop snowflake meat and marble pattern of Duroc pig. Due to advanced research, genetic scanning, Hi-tech equipment, they have contributed to high breeding rate, low incidence, reduced cost, and met the expectation from the market.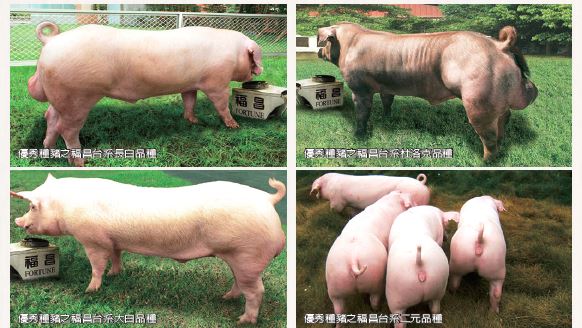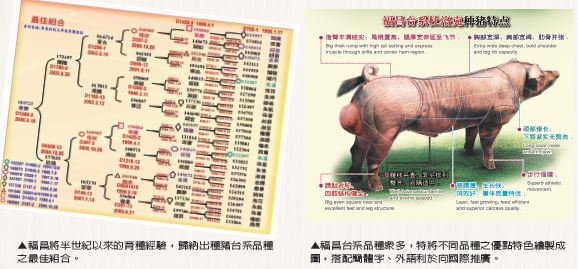 Establishing Taiwan pig gene pool
Chairman Yang believes that technological breeding is the direction of pig breeding. The genetic AI (artificial insemination) center of pig breeding established in Fuchang continues to move towards the genetic breeding of swine and goes to the national artificial insemination station. Under the leadership of Chairman Yang, Fuchang continued to enhance the performance of breeding pigs, set up a selection system of reproductive meat and maternal characteristics of breeding pigs, increased the number of breeding pigs, strengthen the pig's feet, increase the lifetime of pigs, and updated the genetic breeding of pigs Evaluating computer systems, established standardized operating procedures and other advanced measures. The improvements have enabled Fuchang's breeding technology to take a leading position in the swine market, also it is the first to pass ISO 9002 in Taiwan. Even more, the Fuchang AI Center is honored from 2002 to 2004, it was continuously ranked as top 1 core artificial insemination station, which is an unprecedented glory in the industry.
Chairman Yang, to become the market leadership reply on his vision, also predicts the possibilities and unlimited of swine industry for the future. Later in 2006, the cooperation with Taiwan University the red fluorescent gene transfer pigs completed, which benefited the development of medical, beauty and even stem cell cultivation techniques have a meaningful contribution.
FuChang group established near half-century, over the years the company overcame the barriers in spite of the difficulties and developed swine business from traditional to hi-tech management. Taking the example of the outbreak of foot-and-mouth disease in 1997 in Taiwan, pork and pigs were prohibited export, which is the great impact of FuChang since 1980 FuChang has successfully traded overseas in Southeast Asia, and also it reduced the scale of Taiwanese swine industry. Although, FuChang still kept moving forward, and maintained its brand name by superior quality, then finally retrieved Southeast Asia market in 2012, and then followed by Southeast Asia, Northeast Asia, Hong Kong, Macao, and China. Because of the foot-and-mouth disease, FuChang firstly took the lead in setting strict standards for self-defense in hoggery. In terms of pig fodder and animal health supplement adopted Taiwanese manufacturers with pharmaceutical background, and therefore minimize the chance of illness.

High quality of Biotech pigs
Not only nurturing fine breeding pigs, FuChang is the pioneer in setting up Molecular Biology Laboratory, screening of pigs' genes with advanced biotechnology, strengthening the production of frozen semen and enhancing the preservation of seed germplasm in 2011. For the following 15 years, Blue Reese, Yorkshire, Duroc three varieties have been rated as core hoggery.
Fuchang, a leader in the industry, has given back to the industry of many years of research and development technology and sell swine semen to pig farmers so that superior blood can be handed down through the generations. "Swine breeding is the beginning of the pig industry, by breeding, we have improved the healthy, strengthen and disease-resistant superior breeding pigs. We even embrace the booming business, providing superior quality at low cost, and it is expected that around NTD$500 million output increasing annually benefiting to Taiwan's swine industry.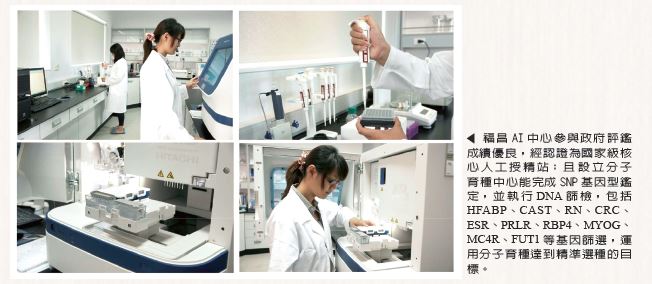 Awarded Doctor, Set FuChang Day
The elderly chairman Yang is still curious about the dynamic environment, learns new gadgets, for instance, smartphone and iPad. Also, Yang makes efforts on guiding young generation, provides the scholarship in IIan University for years, promotes the cooperation between industry and research, internship, and other practical seminars.
Giving back to his alma mater and encourage outstanding students, he has donated NTD$500,000 a year since 2014, and it lasts for at least 10 years with the donation of over NTD$5 million. In addition, he established "Taiwan FuChang scholarship", denoted to improve lecture hall, held "FuChang seminars" actively. In response to Chairman Yang achievements in swine and husbandry industry, the National Ilan University specially awarded the honorary doctorate to Yang Chairman in June 2013. To thank Dr. Yang for his alma mater, the lecture hall of the College is named "Fu Chang Office" and will be designated as "Fu Chang Day" every year on November 27.
Highly dense population result in limited Taiwan living environment, to overcome it by adopting technology to boost Taiwanese swine industry go toward exquisite and scientific agriculture. To operating swine business should base on "superior variety, handed down from generation to generation", the essence of corporate social responsibility. To deliver a positive ecology by "pig breeding, and eating" in Taiwanese swine industry.